Today is International Museum Day. And, did you know that Wichita has over 20 museums? As a historian and all-around geek, I was super stoked to move into Wichita. One of my favorite things to do is walk around downtown, view the old buildings and beautiful architecture, and read the plaques that tell the historical significance of each building. I was the geeky kid who actually read the information at museum exhibits on field trips.
But, not all museums are history museums – there are art, science, culture, sport, and much more. And Wichita has all of these as well. Technically, even Zoos fit into the definition of a museum.
Currently, we have memberships to Exploration Place and Sedgwick County Zoo. We enjoy going to the Kansas Aviation Museum on Friday mornings for their Little Aviator program. We also love visiting Old Cowtown on free Sundays.
Needless to say, I believe its very important to take kids museums.
8 Reasons to Take Kids to Museums
1. Museums encourage learning
Whether its a historical museum like the Wichita-Sedgwick County Historical Museum or Old Cowtown or a science museum like Exploration Place and the Cosmosphere, or even an art museum like the Wichita Art Museum and the Ulrich Museum of Art, museums encourage learning. My son loves to tinker and loves to figure things out – that's why he loves Exploration Place – it teaches him science. Interactive museums do a really good job attracting children and enveloping them in the curriculum. We love actually walking through the old houses and shops at Cowtown.
2. Museums encourage curiosity and questions
This goes hand in hand with encouraging learning. Kids ask so many questions, especially when you take them to a museum. They want to learn what an exhibit is, why it was made, how it works. This is why hands-on interactive museums like Cosmosphere, Kansas Aviation Museum, and Exploration Place are so popular. Kids are able to experiment and try things on their own. I can't tell you how many times we visited the Popnology exhibit at Exploration Place the past few months so my kids could practice handling the robotic arms.
3. Museums spark creativity
I love the family days that the Wichita Art Museum has – it encourages kids (and adults) to get in touch with their creative side. Creating is a big part of mental development for children, and art, especially is a great way to express these ideas.
4. Museums encourage imagination
Whether is playing farmers market or castle at Exploration Place, driving a pretend airplane at Kansas Aviation Museum, listening to a story during story time, or watching the planetarium videos, museums encourage the imagination of children. Playtime, exploration, and creativity all meet in imagination. This is a major part of development, especially in young children. And, I don't know about you, but we could spend hours playing at all the different exhibits in Cowtown and Exploration Place.
5. Museums create educated citizens
We have so many different historical and cultural museums in Wichita dedicated to different aspect of our community. Museums dedicated to the Native Americans and the African-Americans allow us to get a different point of life in the past and in the present. It allows us to discover and appreciate different cultures than ours and begin to understand the prejudices and obstacles others have faced. Museums also educate kids about their city to get them more involved in the community.
6. Museums celebrate popular culture
How fun is it that we have a Kansas Sports Hall of Fame, a Toy Museum, and the Original Pizza Hut Museum? These are all fun museums that discuss and showcase pop culture, but these aspects where still very important to our city and our county and state's history. By sharing these museums with our children, they can learn to be proud Wichitans and Kansans.
7. Museums encourage family bonding
Museum trips are family trips. Family bonding is very important. Buy a pass to one of our local museums, and your kids will remember that you took them there often. It will become a request. Maize USD gets out early on Wednesdays, so I usually ask my kids what they would like to that afternoon, usually offering a playground, a museum, or go home for video games and toys. The majority of the time, they will ask to go to Exploration Place or Sedgwick County Zoo.
8. Museums create lifelong learners
Being a life-long learner means that you are always willing to learn something new. You can become a life-long learner at any age – adult or child. But, the earlier that we encourage a love of learning, the better effect it will have on their life.
So, because I believe that museums are very important to a city and to the citizens, I wanted to share with you what our local museums have going on this week.
---
Meet Our Sponsor: Cosmosphere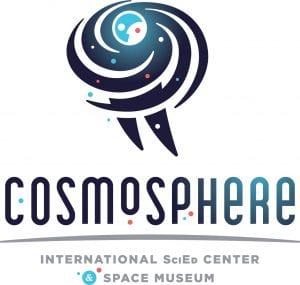 The Cosmosphere International SciEd Center & Space Museum is a Smithsonian affiliated museum located at 100 North Plum in Hutchinson, KS. Its collection includes U.S. space artifacts second only to the Smithsonian's National Air and Space Museum, and the largest collection of Russian space artifacts outside of Moscow. This unique collection allows the Cosmosphere to tell the story of the Space Race better than any museum in the world while offering fully immersive education experiences that meet the Next Generation Science Standards and introduce students to the power of wondering—asking the critical questions that lead to discovery.
The Cosmosphere also features the Carey Digital Dome Theater offering documentary showings daily; experience the night sky in the Justice Planetarium and learn about rocket science in Dr. Goddard's Lab; and featuring CosmoKids, a hands-on, interactive play area for Young Explorers.
What's new at the Cosmosphere? 
A new interactive, hands-on STEM space for kids…a new SR-71 exhibit…and the new X-Plane Gallery.
1100 North Plum, Hutchinson
(800) 397-0330
Website
Twitter
Facebook
Instagram
---
Botanica
Carousel rides are free today with general admission from 5pm – 8pm. (They are free every Tuesday evening). Also, check out today's class in their Yoga in the Gardens series.
Exploration Place
Although they do not have anything special going on today, they do have a brand new exhibit that just opened on May 15. The PAW Patrol: Adventure Play exhibit includes imaginative play and learning how to be a community helper.
Great Plains Nature Center
Visit today and grab a free take-home craft for you kids.
Kansas Aviation Museum
They are closed on Tuesdays, but every Friday, children under 12 (plus one adult) are granted free admission up until noon.
Kansas Fire Fighter Museum
They aren't open today, but they are finally back open to public! Visit them on Saturdays from 11am to 3pm! There is something there to do for all ages.
Kansas Wildlife Exhibit
Visit this miniature wildlife exhibit inside the Riverside Park. They have daily feedings at 12 pm.
Old Cowtown Museum
Today they are offering 10% off everything in their gift shop. Also, remember that Sundays are free. There will be local vendors every Sunday as well.
Wichita Art Museum
Today is free admission to everyone (10am to 5pm). And they will be having a 10% discount in the museum store (store hours are 11am to 4pm).
Wichita-Sedgwick County Historical Museum
If you bring your lunch and eat it in Heritage Square, then you have free admission through May 30th.
Visit our Wichita Attractions resource page to see addresses and webpages for local museums.