Giving birth can be a scary thing. And learning to be a mom to a newborn is also hard. And that is exactly why Sara Skiles decided to start Wichita Doula and The Wichita Baby Company. These two small businesses go hand in hand to be supporters and advocates of local Wichita mothers from pregnancy through the first year. Let's hear what Sara has to say.
How many kids do you have and what are their ages?
I have two boys – Oliver and Grayson, ages 9 and 6!
Where are you originally from and what brought you to Wichita?
I was raised in the wild Ozarks and when I met my husband he was traveling around with no roots. Since he has relatives locally and it's a great, inexpensive, and beautiful mid-size city we decided to settle here in 2010 to raise a family and local businesses!
What does your family like to do around Wichita?
Eat and play! We like to walk at the Great Plains Nature Center or the Redbud Trail, take the kids to Exploration Place, and stop by Milkfloat for treats.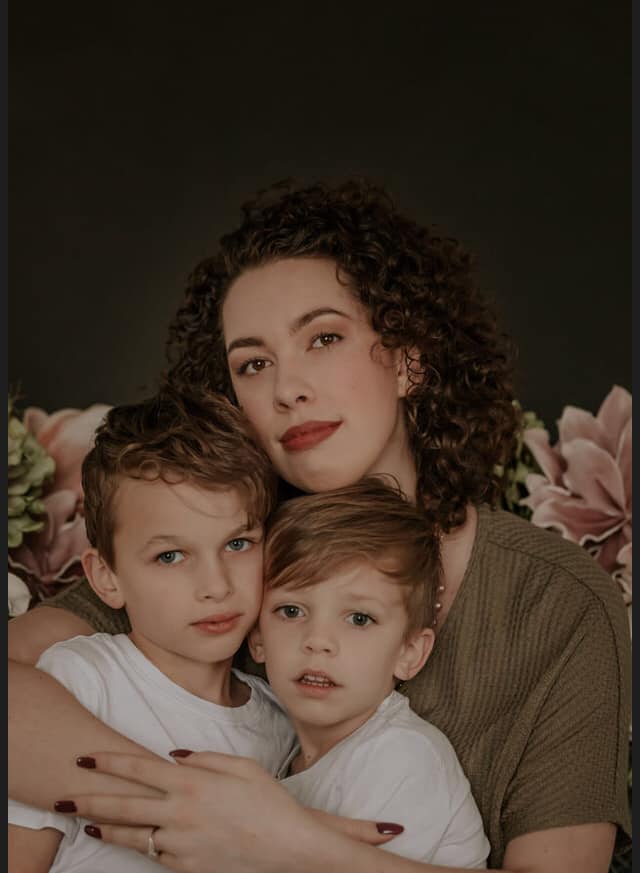 Tell us about your businesses, Wichita Doula, LLC and The Wichita Baby Company.
9 years ago I had a great experience during labor and delivery, and I realized many other young parents could not say the same due to lack of support, anxiety, and other factors. It was time for me to step out and change things in Wichita, one family at a time. I quickly learned that the 24/7 on-call and all-nighter life as a professional doula was too much for one person to handle, so I opened the Wichita Doula agency with a fleet of professional doulas so we could serve more families. We further expanded a few years ago by opening The Wichita Baby Company, which provides postpartum support and overnight newborn care (AKA fairy godmother) services to new parents.
Our services include:
Labor Doula – support and coaching for the new parents through pregnancy and birth
Postpartum Doula – total support after birth so you can eat, sleep, shower, navigate breast or bottle feeding, get baby on a schedule, and know what's normal and what's not.
Overnight Newborn Care – total peace of mind with a certified specialist caring for baby from 9pm-7am. Breastfeeding friendly.
How do you juggle being a business owner and a mom?
It helps that my husband is a stay at home business owner as well! There is no way I would be able to jump up and say "oh someone's in labor, be back in…no clue when?" if I didn't have that built-in support system at home! Sharing my on-call time with my doula partner also means I have down time where I'm not going going going and I can take the kids on outings, cook them special foods, etc.
What is your best mom hack?
I have my kids do a "bedtime cleanup" every night before bed. It is a timed race against the clock for a quick tidy/pickup of each room. That way, we can all wake up in a tidy home to start a fresh day.
What is the hardest part about being a mom?
That feeling always in the back of your mind: are you doing enough? Are you feeding them the right foods? Teaching them the right values? Are you messing them up somehow? Learning to let go of control freak mode and trust that they will make their way in the world.
What is your least favorite chore?
BATHROOMS! Boy moms know what I'm talking about! I would hire a housekeeper JUST for bathrooms.
What is your favorite non-mom activity?
Baking fancy things (I'm obsessed with the Great British Baking Show and also gluten-free, so I cook all my own food).
What is the best piece of advice another mom gave you?
Invest in myself as a woman, not just a mom or just a business owner. My mental health, relationships, self esteem, etc. are important too!
What can local moms do to help your business during this pandemic season?
If you know anyone who is pregnant and feeling overwhelmed or anxious, let them know I'm here to guide and support them as they navigate the pregnancy and labor process! If you know anyone who has a newborn and is struggling with self care, getting the baby to eat or sleep, or postpartum depression and anxiety, let them know I'm here to completely transform their home from chaos to calm. You can have your own fairy godmother whether it's just for a couple visits to set things right, or a months-long contract of total support. You are not alone!
Make sure to follow Wichita Doula, LLC and The Wichita Baby Company on social media!
Wichita Doula, LLC
(316) 302-4484
Email
Website
Facebook
Instagram
The Wichita Baby Company
(316) 202-1891
Email
Website
Facebook
Instagram
---
There are a lot of brilliant women in Wichita. But where are they hanging out? Where are the real, down to earth conversations happening? 
Where are they building their referral networks of other business owners & professionals?
The Hive is the space where these leaders connect and empower each other to succeed faster in their careers and lives.
Every time you show up, you'll leave with a new perspective, a new business connection, a new friend.
The Hive is a women-focused co-working and community space created to offer support for small business owners and community for professionals. It includes a digital and in person community that empowers women to show up authentically by providing resources, connections, and a positive co-working space.
Join the online network and community for only $39.99 a month.
GAIN INSPIRATION: Watch weekly business growth content live in our private Facebook group
GET FREE SUPPORT: Be coached for free once a month on your mindset and business
LEVEL UP: We push each other to learn and grow daily
GROW YOUR NETWORK: Get warm digital introductions to other smart, savvy women in business
GET EXCLUSIVE ACCESS: get support and feedback in our members-only, private Facebook group
GET A DISCOUNT ON DROP IN PASSES: $15/day rather than the public rate of $25/day
Get the co-working membership for only $95 a month.
EVERYTHING THE COMMUNITY MEMBERSHIP INCLUDES PLUS…
CONVENIENT ACCESS: use your mobile device to enter The Hive
FLEXIBLE SCHEDULE: access the space 24/7
VARIETY OF WORK ENVIRONMENT: work from any free chair or space downstairs or upstairs in The Hive
RECORDING/PHOTO STUDIO RESERVATIONS: benefit from professional lighting, recording, and editing equipment
CONFERENCE ROOM RESERVATIONS: meet clients and collaborators in style and present using state-of-the-art technology
Rent a semi- or private office starting at $250 a month.
EVERYTHING THE COWORKING MEMBERSHIP INCLUDES PLUS…
PRIVACY: a place to store your computer, files, etc.
ALL ACCESS: 24/7 entry and additional use of conference room, studios, and workshop room
PERSONALIZATION: decorate your space in your own style
FLEXIBILITY: month-to-month, no long-term committment
ALL UTILITIES INCLUDED: wifi, electricity, trash, cleaning service, and more!
Make sure to follow The Hive on social media!